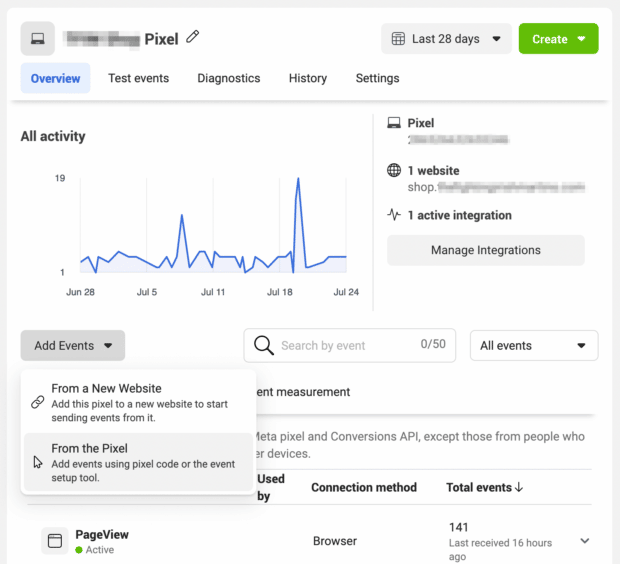 Local Marketing Strategies for Success
Local marketing is an essential element of a larger marketing strategy for small businesses, as it can get your brand in front of a broader local audience that are likely to patronize your business in the near future. But what can you do as an entrepreneur to improve your small business's reach with a local audience? This guide includes seven quick, free tips that can immediately improve your local marketing strategy.
Local marketing targets an audience based in the same town or region as your business. It is geared toward people who are within a certain radius of your physical location – generally based on a reasonable driving distance – who might realistically purchase your product or service at any time.
For example, if you run a restaurant in Red Bank, New Jersey, driving website traffic from Sacramento, California, is not going to do you much good. Instead, you need to employ local marketing tactics to ensure that the majority of your audience is indeed located near enough that they could conceivably drive to your restaurant or order delivery.
"The biggest approach people should be taking is really understanding who they're trying to sell to … what benefit people can get from the product or service, and then relay that information upfront," said Travis McKnight, senior content strategist at Portent Inc.
That's true in all marketing, but especially when it comes to a local marketing strategy, he added. Part of the key information you should relay to your audience is where your business is located.
The goal behind a local marketing strategy is to spend your marketing and advertising budget more efficiently. Digital marketing is an effective tool for businesses of all sizes. However, if you are a local business and you fail to gain traction with a local audience, your marketing expense is all for naught. Not all traffic is created equal; a local marketing strategy ensures that you are targeting an audience that might patronize your business.
Key takeaway: Local marketing targets people within a certain radius of your business. It can improve conversion rates by narrowing the focus of your digital marketing efforts to potential nearby customers.
What types of businesses benefit from local marketing?
Many businesses can benefit from local marketing, but there are some types of businesses for which local marketing is absolutely required. Restaurants are a good example because they are physical locations that offer dine-in, takeout or delivery services. By nature, a restaurant is locked into its physical location.
Another good example of a business that needs local store marketing is a retail store. While even small retail operations often have e-commerce stores these days, local marketing can increase the store's foot traffic and local brand awareness. This is especially important for small, boutique retail stores competing with large chains.
Similarly, professional services like lawyers' and accountants' offices should employ a local marketing strategy. While it might be more appropriate to cast a regional net for these services, it is critical for professional advisors to connect with a largely local audience. There are some notable exceptions to this rule, such as digital marketing companies, which often operate fully digitally. However, nothing beats an in-person consultation.
While there are plenty of businesses that need a local marketing strategy, other types of businesses should consider implementing local marketing as well. Just because a local strategy isn't your priority doesn't mean you can't reap the benefits of capturing a wider audience in the town or region where your business is based.
Key takeaway: All businesses can benefit from local marketing, but some – such as restaurants or retail stores that depend on foot traffic – require a local marketing strategy.
2. Use that Email Marketing List
Email marketing is one of the quickest and most effective ways to drive business. Think about it for a second; you're delivering targeted messages straight to your customers' inboxes, and you're reaching them on their mobile device if they're on the go. More importantly, it's a completely free strategy that can deliver big results if your emails are engaging and your call to action is strong.
It doesn't matter if you're an eCommerce company selling trendy socks or a SaaS company trying to collect data and then cold call-if your website isn't easy to navigate you've already lost the business. Think about the user. Does your website make it easy to find a product or service and then purchase it or inquire about it? The user always comes first, and you need to put yourself in their shoes and make sure that your site is easy to maneuver.
4. Make Yourself Look the Part
While we're on the subject of your website, it doesn't look like it was built in the '90s, does it? User experience is the priority, but design is a close second. Your website should feature full frame imagery and a progressive, clean look that makes your company look like the leader in your industry, even if you're a startup.
A lot of people get caught up using social media to shove their products and services in front of their fan base, and that can be a definite turnoff. Sure, social is an effective way to drive sales, but you should focus on using your social networks to engage with your followers and communicate with them. Ask them questions, and then use that feedback to put out a better product and improve your process.
8 types of Facebook posts to use for marketing
1. Text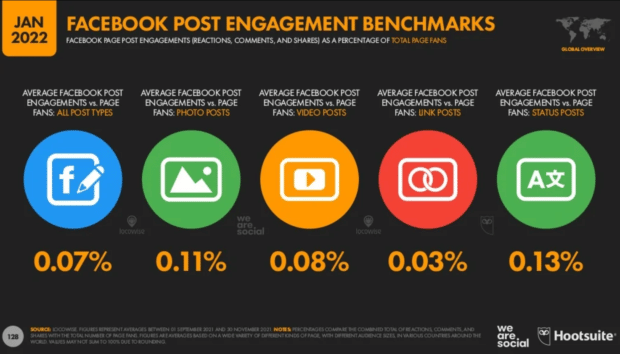 2. Photo
Photo posts are second only to text posts for engagement, with an average engagement rate of 0.11%. A photo post can be any type of image, including a photo, infographic, or other artwork. You can add as many photos as you want to each post, but for 10 or more, consider creating an album instead.
3. Video
4. Live video
Q&As are one of the most effective live video formats for B2B companies. For both B2B and B2C, try demo videos showing how to use your product, especially to show off lesser-known use cases or "hacks."
Lenovo managed to engage their audience and show off a new product's capabilities with this Live. Viewers voted on ways to try to destroy the laptop and Lenovo carried them out live to prove the computer's toughness.
5. Links
Creating one is easy: All you need is a caption of your own, then paste in any link and Facebook will pull in an image, title, and meta description from the website. Or, you can manually add your own.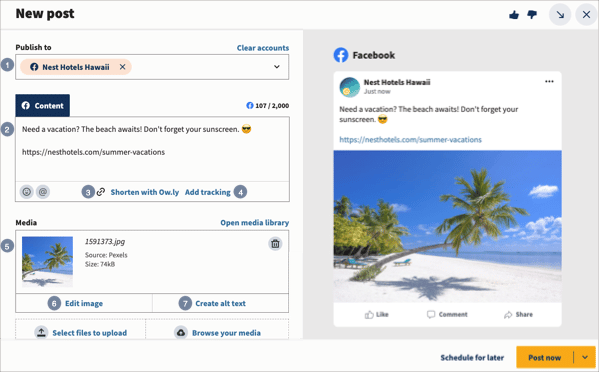 6. Facebook Stories
Facebook Stories offer a familiar vertical format and options for adding links, stickers, text, and more. You can use either an image or video. Images show for 5 seconds and videos can be up to 20 seconds per Story. All Facebook Stories disappear after 24 hours.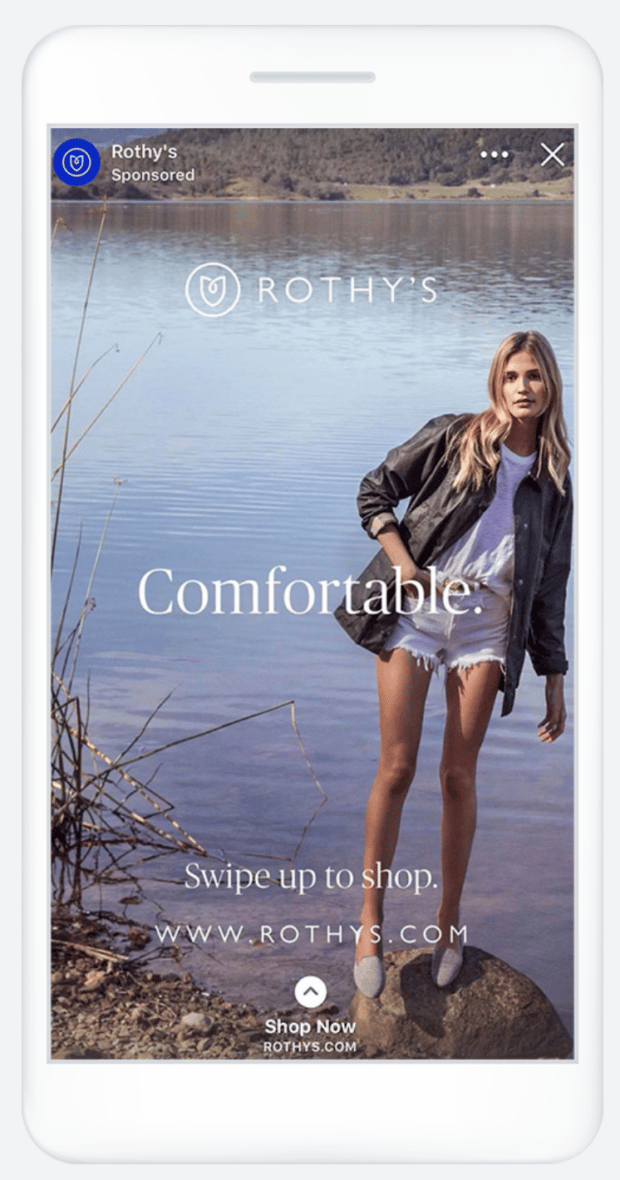 7. Pinned post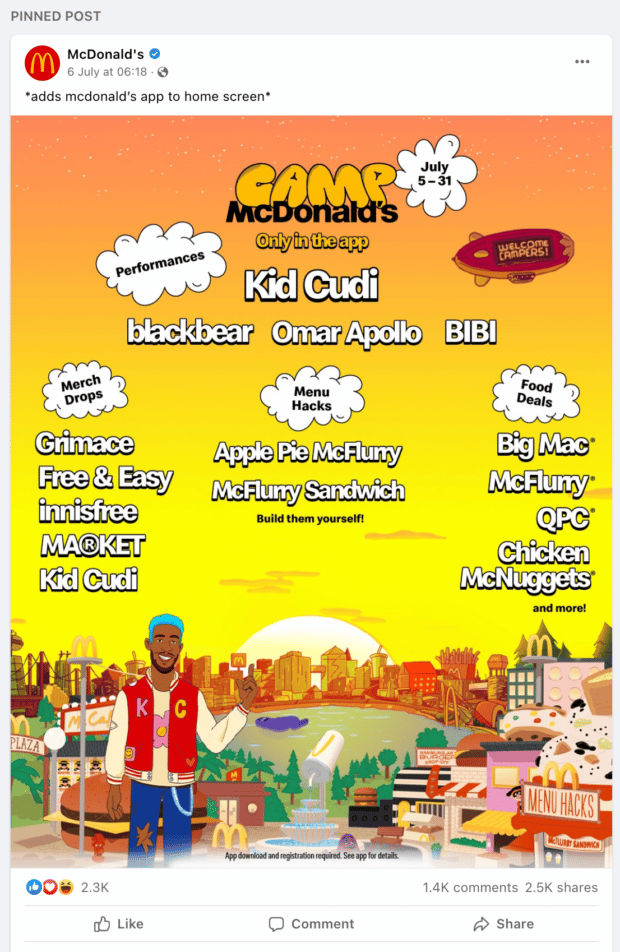 8. Specialty post types
Facebook Group posts
Running a members-only Facebook Group in addition to your business Page can be a lot of work. But if building a community is one of your goals, a Facebook Group is a perfect way to achieve that, thanks to its 1.8 billion active monthly users.
Posting in a Group is the same as posting to your Page, except it's only visible to members. Think it would be a good fit? We've got step by step instructions, plus recommended settings, for creating a Facebook Group for business.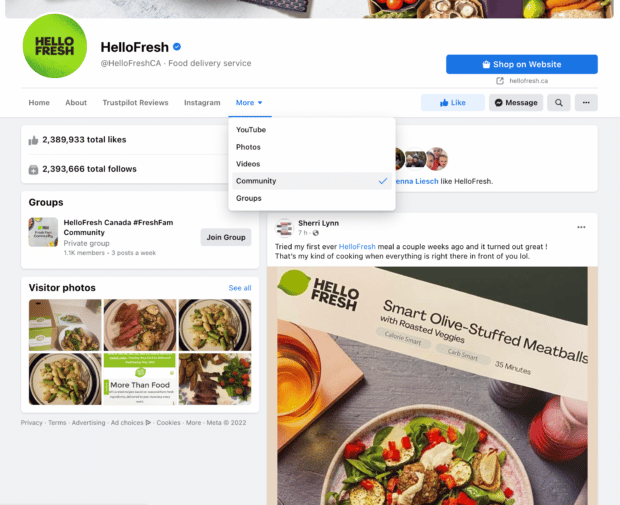 Fundraisers
Fundraisers show your values and connect people to your brand's purpose. It puts your money where your mouth is. Bonus points: You can opt to match all donations (up to a limit of your choice).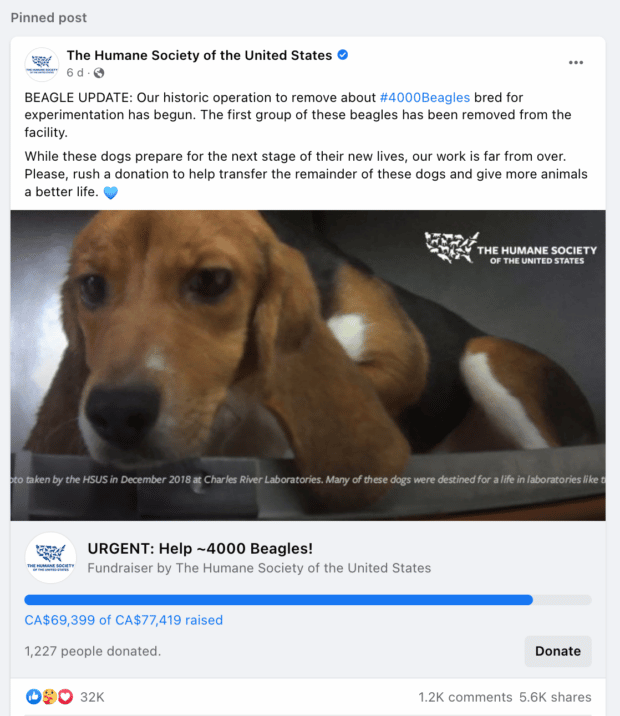 Events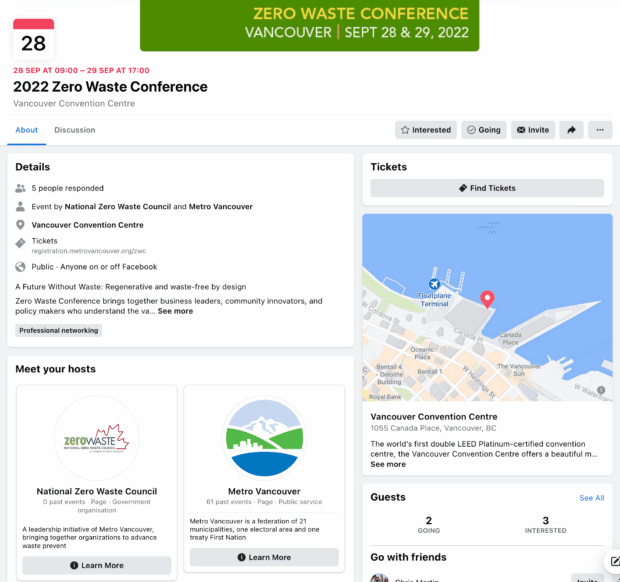 5 Facebook marketing tools
1. Hootsuite
With Hootsuite, you can manage all of your Facebook marketing activities from one place. We hate marketing cliches, but it really is your, excuse us, one-stop shop for all things Facebook marketing.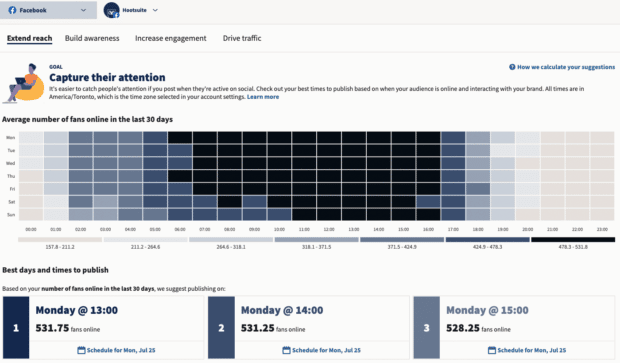 2. Heyday
Leverage AI to save money and provide top-notch customer service 24/7. Facebook Messenger chatbots can act as an interactive FAQ, as well as connect your customers to live agents for more complex requests. And, they can even suggest and sell products right from Messenger.
But more importantly, its smart programming understood Quebecois French terms—a rare and important feature for the Quebec-based company. They'd already found the generic French translations used by other apps unsuitable.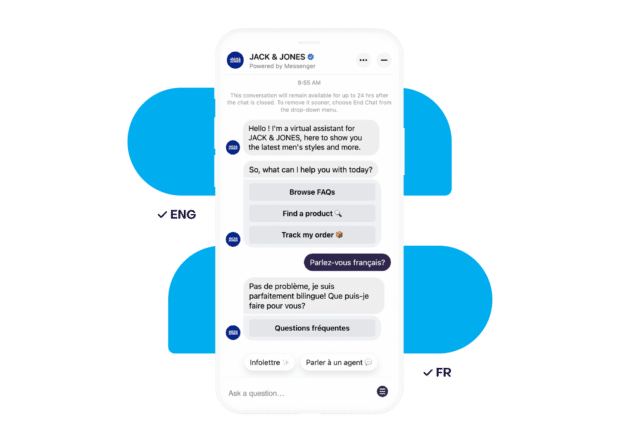 3. Chute
Chute simplifies the often-daunting task of finding relevant content based on topic, location, or more. Save what you find into an organized content library you can access from Hootsuite Composer.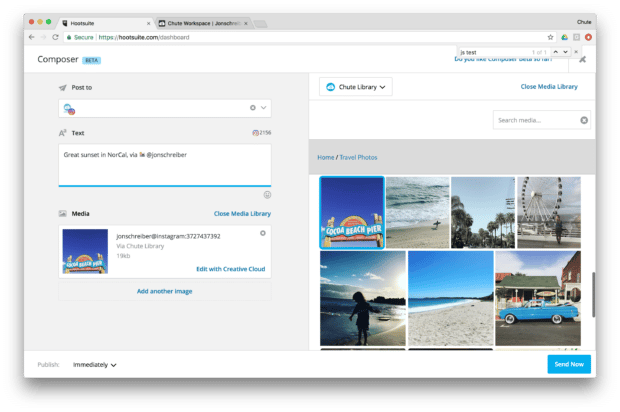 4. Reputology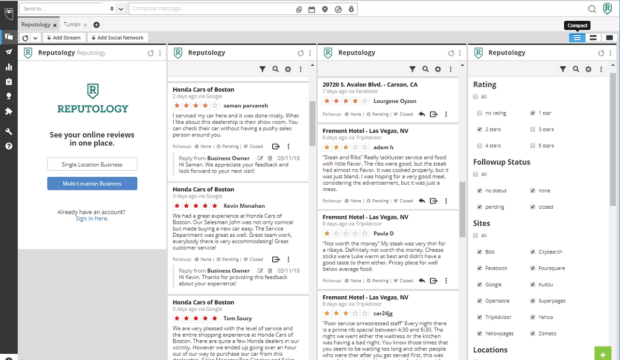 5. Facebook Ads Library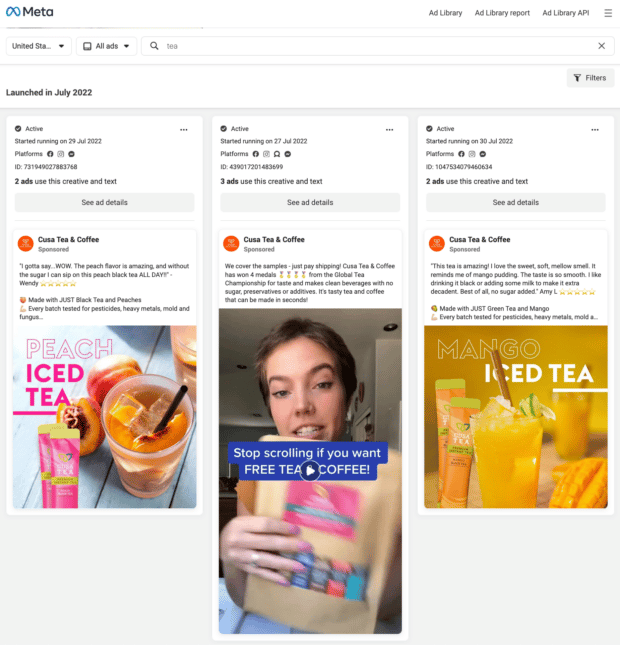 Manage your Facebook business Page, content, ads—and everything for all your other platforms, too—with Hootsuite. Plan and schedule posts, run ads, engage with followers, and measure your impact with powerful analytics. Try it free today.
Sources:
https://www.businessnewsdaily.com/15770-local-marketing-strategies-for-small-business.html
https://www.socialmediatoday.com/news/20-ways-to-effectively-market-your-small-business/453932/
https://blog.hootsuite.com/facebook-marketing-tips/